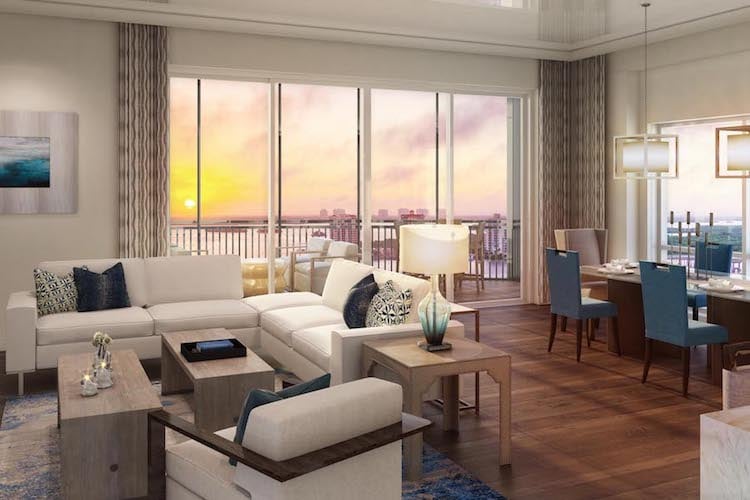 Featuring panoramic views of the Gulf of Mexico and Estero Bay, Grandview at Bay Beach lives up to its name with six new luxury floor plans designed by Southwest Florida home builder, London Bay Homes, to maximize its glorious natural surroundings.
London Bay Homes has released specific details on the six brand new floor plans that are now being offered in the newest condominium tower in South Fort Myers Beach, revealing home designs that accentuate the luxury waterfront condo views available and live up to the luxury living lifestyle associated with a London Bay home. The Southwest Florida home builder has created each of the residences with luxury finishes and appointments from their new Selection Center in Naples, FL, including volume tray ceilings accented with crown molding in the foyer, kitchen, and dining areas. Grandview offers 58 luxury residences and each will feature kitchens with designer cabinetry and appliances, freestanding island breakfast bars, and walk-in pantries, as well as master suites that offer bedrooms with either Gulf or bay views, walk-in closets, and bathrooms with dual vanities, showers, and private water closets. The 58 luxury residences will be dispersed six per floor on the third through 10th stories and four homes on the second-floor amenity level. Six penthouses on the top floor offer 11-foot ceilings and private, two-car parking garages with storage.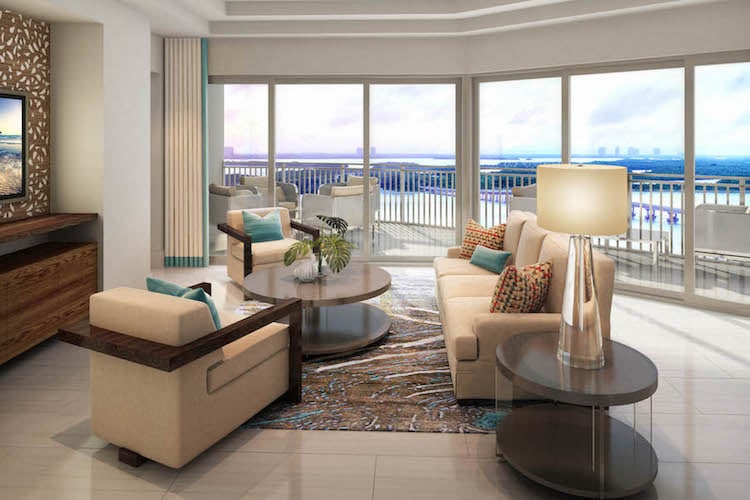 All of the floor plans by London Bay Homes emphasize openness between the kitchen, dining area, and great room to create a spacious living area made even more grand by the large low-e (emissivity) glass windows and sliding glass doors opening to private screened sunrise and open-air sunset terraces. Floor plans at Grandview at Bay Beach include three-bedroom, three-bedroom-plus-den, or four-bedroom designs spanning more than 2,400 to 2,900 square feet of living space.
The first two floor plans, 01 and 06, are both end units with three bedrooms, a den, and three en-suite bathrooms in 2,923 square feet of interior living space, but Residence 01 offers view of Estero Bay from the great room, kitchen, den, and laundry room, while Residence 06 offers Gulf views and a Gulf-front master suite. Both of these floor plans include a 363-square-foot terrace and are the largest floor plans offered.
The next two floor plans, 02 and 05, offer three bedrooms and three bathrooms within 2,414 square feet of interior living space. Both residences include access to a private terrace from the guest room, dual walk-in closers in the master suite, and nearly 300 square feet or terraces. The only difference between the two floor plans is that Residence 02 overlooks Estero Bay, while Residence 05 offers Gulf views.
The final two floor plans, 03 and 04, are designed with four bedrooms and three-and-one-half bathrooms with nearly 500 square feet of terraces. Residence 03 boasts a view of Estero Bay, while Residence 04 features a Gulf view, both from the northern-facing fourth bedroom. Both residences also feature two sets of sliding glass doors in the great room that open to a large curving screened sunset terrace to make the most of the view.
Homeowners will experience a true design-build experience with London Bay, a Southwest Florida home builder with more than 25 years of experience and a signature Private Label Living process that ensures each home built is a reflection of its owner's unique tastes and personality.
Contact us for more information on the luxury residences of Grandview at Bay Beach, or visit our new Sales Center located at 4530 Bay Beach Lane, Fort Myers Beach, FL. Our knowledgeable Sales Executives, Pat Eickholt and Lisa Potts, are available to answer any questions you may have and can provide detailed renderings of the floor plans offered. The Sales Center includes an onsite presentation center that will preview the luxury lifestyle you should expect from your waterfront condo, with sneak peeks at Grandview's amenity areas through video presentations, murals, and interactive displays and an interior look designed to capture the unique lifestyle of waterfront living with colors and textures inspired by nature and a sophisticated coastal feel nodding to the nearby Gulf of Mexico.
The Grandview at Bay Beach Sales Center is open Monday through Friday from 9 a.m. 5 p.m., Saturday from 10 a.m. to 4 p.m., and Sunday from noon to 4 p.m.