In Fort Myers Beach on the Southwest Coast of Florida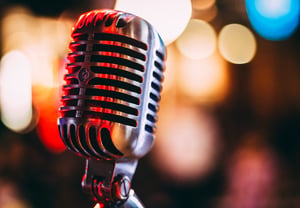 live music goes naturally with the island way of life. You're sure to hear gentle rhythmic music in the early evening, possibly the sound of a kettle drum or a softly strumming guitar. It doesn't take much effort to discover waterfront venues with live music and welcoming vibes to help you unwind after a long day in the sun and sand. Below are five fun establishments serving up excellent live music with a relaxing ambiance and lots of fun on the side.
Related Blog: Things to Do in Fort Myers Beach
Doc Ford's Rum Bar & Grille
Located right on the bay on San Carlos Island, Doc's is a spirited destination on Estero Blvd that offers both indoor and outdoor seating. Don't be too concerned about where you sit, the acoustics are great, and wherever you end up the sound is fantastic. The heat lamps on the deck provide ample warmth if the night gets a little chilly, so stay and listen to great live music well after the sun goes down. Soak in the fantastic atmosphere and exceptional views of the bay complete with fishing boats and pelicans. Arrive by car or boat and relax to an eclectic set of music that makes Doc's a great destination for tourists and locals alike.
Enjoy Doc's live music from Tuesday through Sunday, starting at 6:30 pm on the weekdays and 1 pm on the weekends. You'll hear an energetic mix of popular and classic rock along with soft rock and slower tunes from familiar favorites such as High Voltage and Hazy, Hot & Humid.
The Whale
The Beached Whale or The Whale as locals call it, embraces the casual beach vibe of South Florida while serving up an award-winning BBQ. The kitschy, laid back vibe boasts a fabulous water view from the top deck, but it also has a view of Estero Blvd so you can keep an eye on all the action. Enjoy happy hour with live music featuring Reggae, Ska, and classic rock. Watch bands most nights including top picks Faded Roots, Radio Ghost, and The New Vinyls.
Listen to live music Wednesday through Sunday, with the fun starting at 6 pm on Wednesday and Thursday, 9 pm on Friday through Sunday, with additional shows at 1 pm on weekends.
Dixie Fish Co.
The quintessential island getaway Dixie Fish is a natural tonic for stress relief with its waterfront atmosphere right on Matanza's Pass. With mostly island acoustic performers scheduled each night, this is the perfect spot to unwind after a hectic day. You'll be awestruck by the views from the wide-open windowless layout, recline and take in the parade of fishing boats and the unparalleled sunsets.
Dixie's live music plays at happy hour every day starting at 5:30. Listen to the popular acoustic bands Some Little Fish and Girl Meets Boy on the weekends.
Diamond Head Beach Resort
With two waterfront venues to choose from Diamond Head Resort, just off Estero Blvd, has it all.
Cabanas Beach Bar
Sink your toes into the sand at this casual beachside eatery. Immerse yourself in the beachy sound of tropical samba or groove to the intoxicating rhythm of reggae. Check your stress at the door and sip, snack, and sway the night away. Kick back and relax to Briz and Lady Duo or the vocals of Sheena Brook.
Enjoy laid back music Wednesday, Saturday, and Sunday from 1 pm to 8 pm, and from 4 pm to 7 pm on Thursdays and Fridays.
Coste Island Cuisine
For a more polished venue and upscale seafood and steaks try Coste Island Cuisine which plays live music from 7:30 - 10:30 pm Wednesday through Saturday. Relax at the modern open concept bar or unwind and take in the stunning beach views from the outdoor dining terrace. The local favorites High Tide Trio and Chael Griffith are regular fixtures.
Contact us at Grandview at Bay Beach for information on luxury waterfront living in South Fort Myers Beach.