Florida is widely considered one of the most popular destinations in the world. Millions of retirees flock to the Sunshine State so they can enjoy a lower cost of living, warm climate, and various fun activities both in and out of the water. If you are still trying to decide where exactly you would like to settle down during your golden years, here is a general overview of the five best retirement cities in Florida.


1. Fort Myers Beach
Fort Myers Beach is an ideal place to retire if you want to enjoy fun activities on both land and sea. Depending on your mood, you can either head to the beach and relax on the sand or enjoy kayaking, waterskiing, paddle boarding , windsurfing and other fun water activities. After you clean up and change clothes, you can dine at one of the local restaurants and lounges just steps away from the beach. Fort Myers Beach also has various nature and wildlife areas. There are several guided fishing and wildlife tours available where you can learn more about the area's natural habitat and see some sea turtles, dolphins, manatees, and other animals in their natural habitat. Hiking trails, state parks like Lovers Key State Park and Estero Bay Preserve State Park also await you in Fort Myers Beach.


2. Naples
Retirees love Naples due to the area's luxurious restaurants and shopping centers. Many recreational golfers also flock to the city because it has almost 100 public and private golf courses. The Naples Pier is a popular attraction for sightseers along with the picturesque Baker Park. When you're done exploring the park, you can check out the city's scenic historic downtown area, which is a favorite among young and old people alike.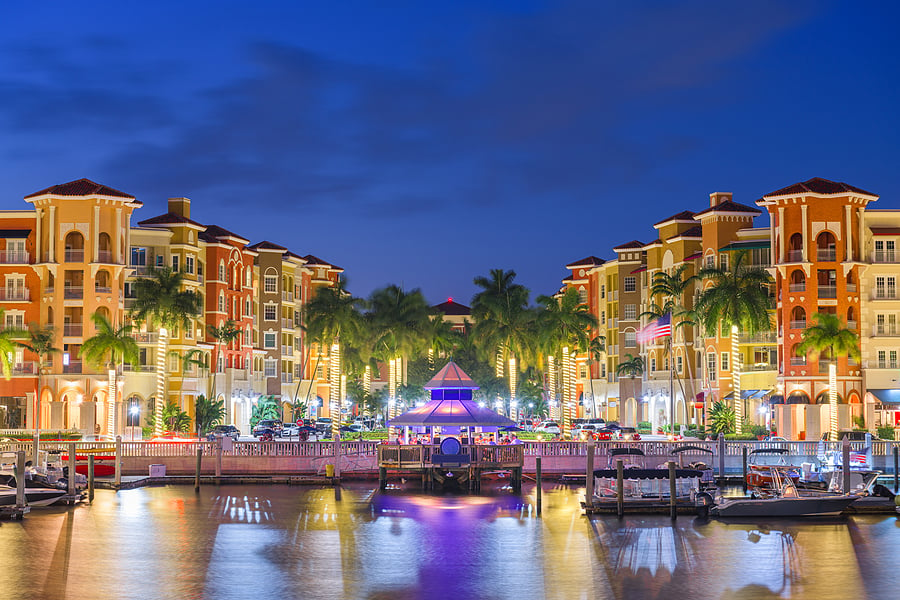 3. Ocala
Ocala is an ideal place to retire if you are yearning to escape city life and get back to nature. Located in the northern region of Florida, the city has a variety of lush parks and tourist attractions, including the Ocala National Forest and Silver Springs State Park. Ocala is widely known as the Horse Capital of the World because it is home to hundreds of thoroughbred horse farms and training centers - which makes it the perfect place to retire if you are a horse lover! If horses don't excite you, perhaps the city's unique buildings and downtown area will peak your interest. Ocala has a rich history and several of its structures are included on the National Register of Historic Places.


4. Jupiter Island
Jupiter Island, which is part of Florida's Treasure Coast, is known for its long roster of celebrity residents like Tiger Woods and Celine Dion. The secluded barrier island features breathtaking views, pristine beaches, well-manicured golf courses and a dog friendly beach among many other attractions. Jupiter Island has a diverse ecosystem where you can easily explore hiking trails, visit museums and swim in both saltwater and freshwater, all without leaving the island.


5. Palm Beach
Palm Beach is frequently listed as one of the best places to live in the United States. The wealthy community is more than just a famous vacation spot, it's also home to a large community of active retirees over the age of 55 years old. Nestled above Miami, Palm Beach boasts beautiful beaches, elegant homes, and luxury retail stores that you won't be able to get enough of. The Four Arts Gardens, Whitehall Flagler Museum and the Breakers Hotel are a small sample of the area's most famous attractions.
Contact us today or call 239-356-1919 if you would like to learn more about why you should consider retiring in the city of Fort Myers Beach.