There's nothing like grabbing a delicious burger, a scrumptious grouper, or a fresh salad to get you through the day, especially when your day is filled with swimming, sunbathing, paddle boarding, shopping, and the many other things to do in Fort Myers Beach FL.
We've put together a list of some of the best lunch restaurants in Fort Myers Beach, where you can indulge in fine dining or kick back with a live band while you're elbows deep in stone crab. Find the style of food that will tantalize your taste buds and consider staying for awhile to see what life on the beach is all about.
Matanzas on the Bay
Fort Myers Beach waterfront dining is certainly the way to go if you want to combine a magnificent water view with a delicious meal, and according to some of their reviews, Matanzas on the Bay has the "Best View in Southwest Florida." Aside from that, they have amazing pizza and a delectable stuffed grouper, as well as live music on Petey's Upper Deck. And since this restaurant part of a resort and marina, you can also dock your boat for free when you're stopping to grab something to eat.
Flipper's on the Bay
Voted the Best Waterfront Dining Restaurant in Fort Myers, FL by 10Best, Flipper's on the Bay is an open-air restaurant that overlooks the backbay waters of Estero Bay, which also means you can probably see the contemporary design of the newest condominium in South Fort Myers Beach, Grandview at Bay Beach. The atmosphere is casual, but upscale and you can enjoy scrumptious food for breakfast, lunch, and dinner. Choose from the many fresh seafood offerings on the menu, like the Cruz's Paella, or opt for a land-lubbers choice like the Lovers Key Wrap, named after the Lovers Key State Park.
Doc Ford's Rum Bar and Grille
Doc Ford's is another one of the waterfront dining restaurants on Fort Myers Beach, but this place comes with a live band, a casual atmosphere, and the freshest local seafood you can find. Here you'll find a raw bar with Yucatan shrimp and oysters on the half shell, as well as a Cuban sandwich, Maine lobster roll, and Doc Ford's original lime panko-crusted fish sandwich. It's a local favorite and a tourist attraction, and there's more to it than the food: The owner is also the author of the bestselling Doc Ford and Hannah Smith novels and book signings are held in the restaurant.
Sunset Beach Tropical Grill and the Playmor Tiki Bar
Known as the original place to socialize in Fort Myers Beach FL, the original Playmor Tiki Bar was built in the early 1950's and was a fun gathering place with a gorgeous view of the water. The traditions that began way back when have continued with the Sunset Beach Tropical Grill and the Playmor Tiki Bar, with the addition of live entertainment and great food. Burgers, wraps, salads, pizza, and flatbreads are all on the lunch menu, and you'll enjoy every one of them, but the main reason people keep coming back are the good vibes found here.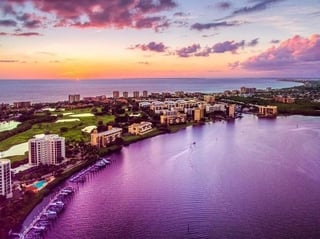 Five lunch restaurants in Fort Myers Beach FL doesn't even begin to cover the many options available in our beach town, but these are just some of our favorites. Take a drive or hop on a plane to discover every tasty morsel you can have, and you may even decide to stay and enjoy the relaxed Florida lifestyle for good. If the beach calls to you and the clear blue skies leave you desiring a coastal locale, we have just the home for you. London Bay Homes is currently accepting reservations for Grandview at Bay Beach, the newest condominium in South Fort Myers Beach. Our 11-story tower offers 58 stunning residences where you can enjoy unparalleled views of the Gulf of Mexico and Estero Bay, as well as enjoy resort-style luxury amenities.