Why Fort Myers Beach, Florida?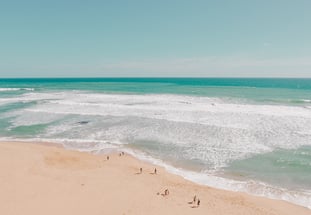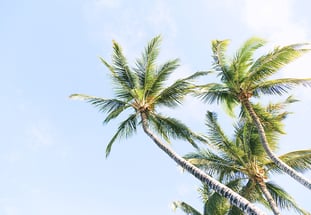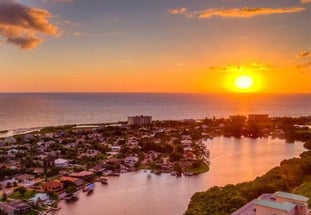 Spend a day or two in Fort Myers Beach and you'll quickly see why so many fall in love with the community. Fort Myers Beach has a beautiful, newly renovated downtown area that boasts excellent, high-end shopping and dining options as well as cultural opportunities like plays and musicals. History buffs can learn more about the city's beginnings as a base of operations in the antebellum-era Seminole Indian Wars, while sports enthusiasts can fish, boat, golf or take in a spring training game for a Major League Baseball team. Then, there's the white sand beaches that are second to none. Find out more about what makes Fort Myers Beach such a delightful place to call home.
Weather in Fort Myers Beach, Florida
Many residents of Florida's Gulf Coast come to escape the frigid temperatures from northern states, especially during the winter months. There's no snow in Fort Myers Beach, so no need to navigate treacherous roads or scrape ice off your car's windshield.
Sunny skies frame the Fort Myers Beach area an average 271 days a year. Year-round, the climate in Fort Myers Beach is comfortable -- summer highs are in the 80s, occasionally moving the mercury just above 90 degrees, and winter lows hover around the mid-d60s. Rain? Yes, there's some of that too, primarily in the more humid summer months. But unlike other areas of the country where there are steady grey skies and ongoing drizzle, Florida rain hits quickly and then dissipates so you can return to enjoying some rays.


Fort Myers Beaches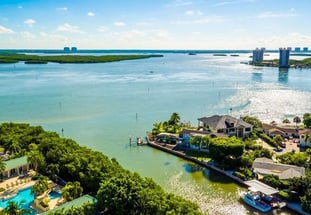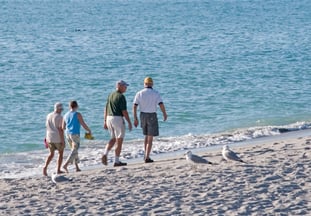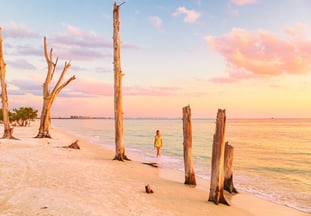 Few beaches in the world can compare with those on Florida's Gulf Coast, and the residents have taken great care to keep the coastal areas around Fort Myers Beach in pristine condition. Soft sand liberally peppered with shells and an abundance of plant and animal life will keep you busy taking in all there is to see or getting the most of your relaxation time. Most of the beaches incorporate well-maintained amenities and nearby places to grab a drink or a snack. Note that parking areas can be crowded, so arrive early.
Whether you prefer to be active or you just want to soak up the sun, Fort Myers Beach has something to offer everyone. The wide, white-sand beach is actually set on a small barrier island and is a separate community from Fort Myers Beach, attracting visitors from all over southwest Florida for fishing, kayaking and parasailing in the shallow waters off the shore. Just off the beach's pier sits Times Square, a trendy shopping area with cafés and restaurants.
A near-perfect 2-mile stretch of beach backed by exotic mangrove trees, Lovers Key State Park is home to plenty of wildlife, including manatees and dolphins. Just over 7 miles of trails wind through the park, offering a chance to explore by foot or on bike. Planning a picnic? Special areas equipped with grills and tables are first come, first served. Plus, Lovers Key has an excellent area for swimming.
Just south of Fort Myers Beach area, Barefoot Beach Preserve offers an unspoiled shoreline perfect for shelling that tends to be slightly less crowded than its more northern counterparts. As one of the last undeveloped beaches in Florida, Barefoot Beach Preserve is packed with recreational opportunities like kayaking and canoeing, but it's also a great place to swim due to its shallow waters. Watch for turtles, tortoises, dolphins and several species of birds along the water.
Bowman's Beach is one of the jewels of Sanibel Island, itself a lovely getaway filled with gently swaying palm trees and shores lined with shells. Extensive trails, picnic areas with grills, well-maintained showers and restrooms make Bowman's Beach an excellent place to take the family for the day or make regular treks to enjoy the sand, wildlife and lush vegetation. Elsewhere on Sanibel, you'll find plentiful choices for restaurants and boutique shopping.
Situated in the middle of Fort Myers Beach, this park boasts a 560-foot fishing pier, playground and picnic areas close to many pleasant spots for shopping and eating. Find a comfortable spot in the sand at this family-friendly beach and stay to people watch or take in a beautiful sunset.
Romantic Captiva Beach is on the northern part of Captiva Island, and like the other barrier islands surrounding Fort Myers Beach, the area is perfect for spotting wildlife, walking hand-in-hand through the silky sand and admiring the lovely sunsets that grace this part of the Gulf Coast. Pamper yourself with a stay at the adjacent South Seas Island Resort.

ELEVATED WATERFRONT LIVING IN SOUTH FORT MYERS BEACH

Top Golf Courses in Fort Myers Beach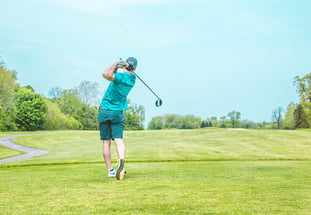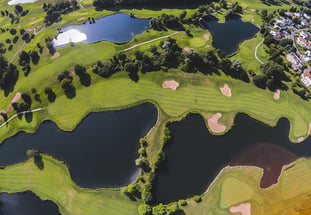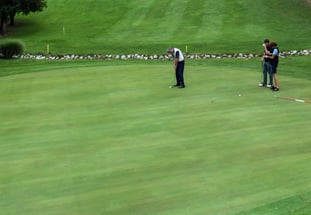 Your ideal place to live would, of course, incorporate challenging experiences on the links, with a wide variety of golf courses to keep you enthused. Fortunately, the Fort Myers Beach area has more than 150 layouts to sample. Some of the championship gems open for both memberships and public play that appeal to avid golfers include:
Built in 1991 based on a design by Ron Garl and renovated by Gordon Lewis in 2006, The Golf Club at Herons Glen course boasts six sets of tees so virtually anyone can play. From the tips, the par-72 course measures 6,468 yards highlighted by a semi-island green on the par-3 4th and the challenging par-5 17th on the back. The facility also offers an extensive driving range with both Turf-Hound and Bermuda grass hitting stations as well as an 8,500 sq. ft. practice putting green and large chipping area with practice bunker. Warm up with a trek around the course as a par-3, available at limited times.
Two award-winning courses call The Verandah home: Whispering Oak, a Jack Nicklaus and Jack Nicklaus II design that incorporates the natural landscape and adds in some extremely tough greens; and Old Orange, created by Bob Cupp as a more traditional layout. Old Orange, at par 72 and 7,118 yards, was finished in 2003 and follows the Orange River for several holes. The par-72 Whispering Oak measures 7,214 yards from the back tees and was named one of Golf Magazine's top new courses when it debuted in 2007.
North Fort Myers Beach is home to the par-72 Magnolia Landing course, another Gordon Lewis design completed in 2007 that wins rave reviews for its excellent condition. Golf Advisor ranked it 11th best in the nation, and its five sets of tees give golfers at all levels a tough challenge. Be prepared to encounter lots of water hazards along the 7,265-yard layout.
Architect Gordon Lewis, famous for his extensive knowledge of the southwest Florida terrain, designed this par-71 award winner as well. A bit shorter than other area courses, Shell Point is 6,585 from the back tees but will make golfers work hard every step of the way. Accuracy is prized as interesting tee positions and fast greens keep this a tough test.


Shopping in Fort Myers Beach, Florida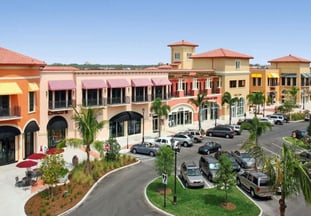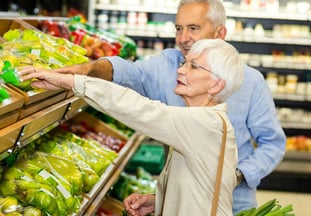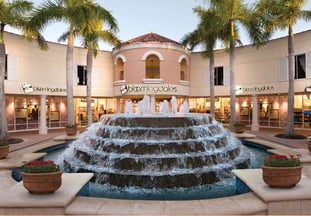 You'll find plenty of cozy boutique stores to browse and buy from, but shopping in Fort Myers Beach starts with the nearby Edison Mall. Completely enclosed, and thus ideal for visiting on an especially warm or rainy day, Edison Mall has more than 160 stores and several restaurants. Mall administration plans regular events for families and seniors and encourages health and fitness via its Mall Walker Program.
The local boutiques are not to be missed, of course. You'll want to make sure to check out:
Exploring Nature in Fort Myers Beach, Florida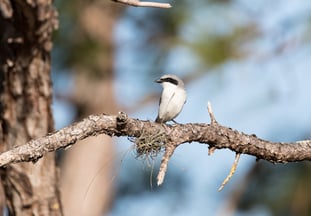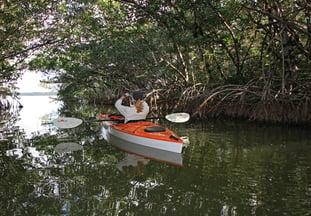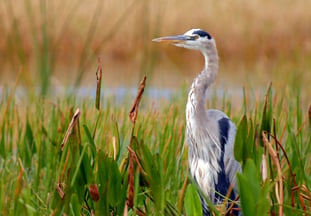 The city of Fort Myers Beach is surrounded by extensive natural landscapes and opportunities for outdoor recreation.
For those intrigued by Florida wildlife and the environment, Calusa is an excellent place to visit. The 105-acre grounds are home to a true Florida swamp and animal residents who, due to injury, can no longer survive in the wild. Visitors can see animals and sit in on special talks about specific species. While you're here, take in a show under the planetarium's 44-foot dome.
This 77-acre preserve allows visitors to walk or bike through the grounds along a 1-mile maintained trail that's ADA accessible. Ecologists are working on a system of delicate filter marshes to rejuvenate the landscape and improve water quality, so unfortunately, pets aren't welcome. But you'll be able to spot several other types of animals here, including gopher tortoises, rabbits and woodpeckers.
Guided tours are available along the boardwalk trail that meanders through the Six Mile Cypress Slough Preserve, and taking one is a great way to learn more about this 3,500-acre system. Coupled with a visit to the on-site interpretive center, you'll understand more about Florida ecology and preservation issues. Monthly speakers share their expertise about the Gulf and wetlands environment.
Get back to nature with a walk through this preserve, part of the Lee County Conservation 20/20 program that aims to protect environmentally sensitive land. A canoe and kayak launch is situated on Popash Creek, so you can travel by water or walk along the boardwalk or the established walking trail. There's also a Caloosahatchee Creeks Preserve East on the other side of I-75.
Walking and equestrian trails weave through the Prairie Pines Preserve in North Fort Myers Beach. The walkable loop path offers a chance to spot several species of birds, while the horse trails are more extensive. Dogs on leash are welcome.
Both inventor Thomas Edison and automaker Henry Ford maintained winter residences in Fort Myers, and more than 20 acres of garden areas around their homes are now part of the museum grounds. View more than 1,700 types of plants as you walk through as part of your museum tour. Want more access to the gardens? You may be best off buying an annual membership, which gives you free admission whenever the estates are open.

58 STUNNING RESIDENCES. ENDLESS VIEWS.


Fort Myers Beach Arts, Entertainment and Culture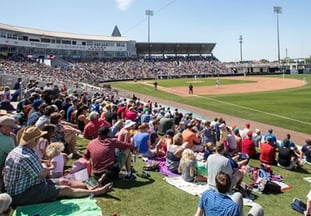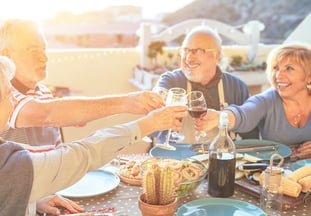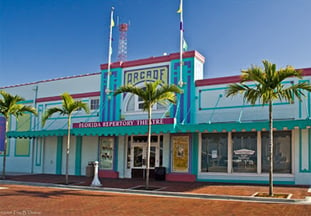 You won't sacrifice cultural opportunities by living in Fort Myers Beach. The community and surrounding area offer theater, concerts and other performing arts as well as a long list of annual events. Sports fans should be sure to take in spring training, when MLB teams come to town to get ready for baseball season.
Downtown's River District houses the Historic Arcade Theatre, where the Florida Repertory Theatre performs a variety of plays and musicals. The Wall Street Journal has named the group "one of America's top repertory companies" and the quality of performances is top notch. Roughly 87,000 people take in at least one of the nine to 10 events scheduled each season.
Live small theater performances at The Laboratory Theater of Florida are more intimate and a bit more funky than the larger Florida Repertory Theatre, but equally entertaining. The organization also hosts several workshops and classes throughout the year for those interested in the theater arts.
Larger concerts and performances make their way to the Mann Hall on the grounds of Florida SouthWestern State College, where you can take in the latest touring Broadway musical, a symphony or a popular country singer. The venue seats 1,874 and also hosts business conferences and seminars.
Spring Training Baseball
Both the Boston Red Sox and the Minnesota Twins make Fort Myers their homes for spring season training. Hammond Stadium hosts the Twins as well as minor league baseball games throughout the year, while JetBlue Park with its 11,000-person capacity houses the Red Sox. Each team plays about 15 to 20 games in the "Grapefruit League" each spring.
Annual Events in Fort Myers Beach
Arts and cultural events, including music performances and festivals, occur every year in the downtown River District and throughout Fort Myers Beach. Here are three of the biggest draws each year.
Edison & Ford Antique Car Show at Ford Lawn. More than 100 classic Ford owners bring their beauties to the Ford estate's lawn for a display and homage to a pioneer of the auto industry. Thunderbirds and Mustangs intermingle with antique Model As and Ts on the first weekend in February.
Parade of Homes. From late February to mid-March, the Lee Building Industry Association invites guests to tour model homes from the area's most well-known builders. Houses range from modest single-family dwellings to elaborate mansions.
Fort Myers Beach Film Festival. In mid-April, the Fort Myers Beach Film Festival showcases independent shorts, documentaries and full-length movies at the Sidney & Berne Davis Art Center.


Fort Myers Beach Community Districts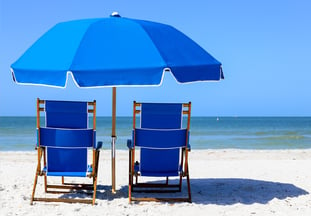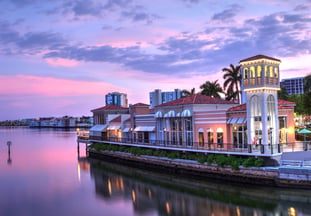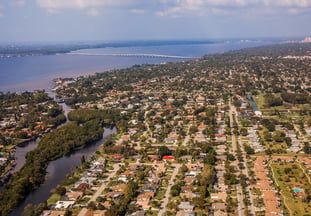 Trying to understand where everything is located in Fort Myers Beach? While the city of Fort Myers Beach does encompass about 40 square miles, there are four major districts where most events and recreation take place. Some of these, like Sanibel Island, are actually outside the city limits but are easily accessed by those living in Fort Myers Beach.
Fort Myers Beach
Located on an island just off the coast of Fort Myers Beach, the beach area stretches for seven miles along the Gulf and offers you the ability to go shelling, strolling or sunbathing as your mood dictates. Fish off a pier or check out the shops and restaurants at Times Square just off the beach. This is the home for some of the best nightlife in the area, with funky bars and resort lounges that offer drinks, dancing and great views.
Bonita Springs
The Bonita Springs area is south of Fort Myers Beach that's well known for excellent beaches and parks. Once a pineapple plantation, today Bonita Springs puts an emphasis on nature and recreation. Boat or kayak through Estero Bay and observe a great variety of flora and fauna, or pay a visit to the Conservancy of Southwest Florida Nature Center. Walking and hiking are also popular pastimes.
Sanibel Island
A key feature of Sanibel Island is its natural areas -- in fact, half of its land has been permanently preserved against development. The beaches on Sanibel are best known for being great shell collecting spots and for attracting a range of wealthy and famous visitors, but you don't have to have a huge net worth to enjoy the beaches. Art galleries and restaurants appeal to eclectic tastes.
River District
Downtown Fort Myers Beach, often called the River District, is the center of Fort Myers Beach' city life. This area along the Caloosahatchee River contains most of the fun shopping areas as well as restaurants, theaters and art galleries. A historic downtown walking tour can give you more insight into the founding of the city as a Civil War outpost. The River District also contains the IMAG History and Science Center, a huge exhibit hall and science museum that's fun for kids and adults alike. Just south of downtown, you can visit the estates of Thomas Edison and Henry Ford, who spent their winters here and take a self-guided audio tour of the buildings and extensive gardens.


South Fort Myers Beach Community Options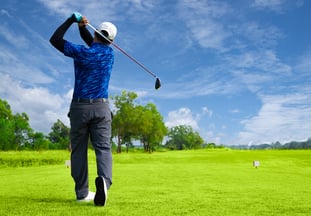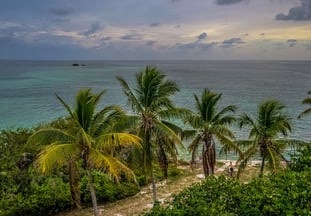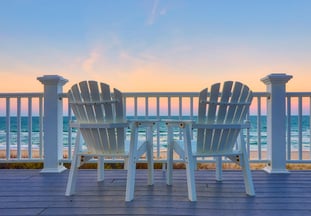 What type of community appeals to you? South Fort Myers Beach has it all, so you can truly find the best home for your needs and lifestyle.
To help you decide what type of community is right for you, start with some analysis of your preferences.
Create a list of must-haves and would-like-to-haves. This helps you understand your priorities.
Decide where you'll want to spend time. The beach? The golf course? Shopping? You'll want to look for a community close to what you want to do.
Start to narrow down your options with a list of neighborhoods that offer the lifestyle you want.
Schedule time to tour the neighborhoods you're interested in and soak in the atmosphere of each one.
Comparing information on each of your top neighborhood options to make an informed choice.
As part of the information gathering process, download the brochure about Grandview and see if it offers what you're seeking. Not yet sure? Find out about some of the different neighborhood options.
Golf Course and Gated Communities
You don't have to live your life on the links, but the gated community and additional security that a golf community offers may be just what you're seeking. The nature of these communities is to keep a well-maintained appearance, generally through a homeowners' association (HOA) and the common design themes of the homes and high level of upkeep is suited to a luxury living environment. Plus, with a golf community, you'll have access to clubhouse amenities, fine dining and other recreational activities like tennis and swimming. Many gated communities also feature walking trails and beach areas for residents.
The types of homes available in a golf community are likely to have high-end construction with luxury finishes. If that level of quality appeals to you, a golf or gated community should be high on your list.
Waterfront Communities and Highrise Condos
All the luxury without the need for property maintenance -- that's a waterfront condominium. Experience breath-taking views of the Gulf from your balcony in an equally luxurious setting as a single-family house or villa. Enjoy the best of the Florida lifestyle without the building and lawn care.
Retirement or Senior Living
Retirement communities can allow you to live the Florida lifestyle with the peace of mind that an all-encompassing care facility provides. Start in an independent, luxury home or condo with the option of moving to assisted living if and when it becomes necessary. As the No. 2 best retirement city in America, Fort Myers Beach has a range of senior living options that could include golf, recreational activities and security if that's what you're seeking.
Downtown Lifestyle
Live where the action is with a home near the River District of Fort Myers Beach. You'll have close access to culture, shopping and dining experiences and there will always be events and people watching as well as views of the river.
Suburban Lifestyle
Would you like to be away from the hustle and bustle, yet still close enough to get where you need and want to go? Perhaps a suburban community would be best for your needs.


Fort Myers Beach Housing Styles Suited to the Florida Lifestyle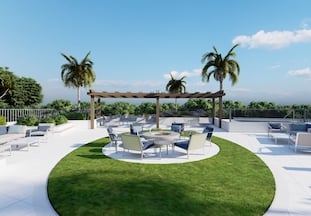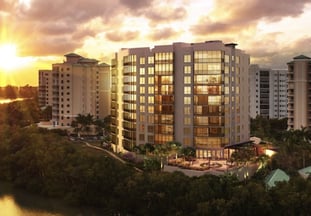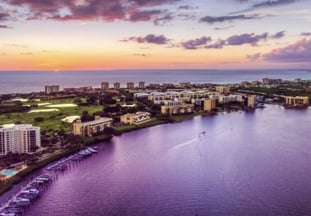 Along Florida's Gulf Coast, you have many choices for comfortable and attractive living. If you're considering a move to the Fort Myers Beach area, you likely value great weather, good beaches and interesting cultural experiences, so why not let your choice of housing reflect your active lifestyle? Choose a condo, single-family home or villa that's customized to suit your needs.
Most styles of housing in southwest Florida incorporate large windows and glass doors that let in plenty of sunshine. With the use of low-e glass to minimize heat transfer and keep your A/C working efficiently, this lets you take advantage of natural light to improve your mood and keep your home looking beautiful. Pair the gorgeous light with customized soft textures and fabrics for indoor furnishings, in a palette that emphasizes the Florida landscape with blues, greens and tans, for the most in coastal living.
Another feature of many Fort Myers Beach homes: Outdoor living. Your living area can expand with the addition of a well-designed outdoor patio and kitchen space, with or without a pool or spa. Dine outside and let a fire pit or outdoor fireplace warm you as the evening cools. Add in beautiful views and you'll be able to completely enjoy all that Fort Myers Beach has to offer.


Why Grandview at Bay Beach?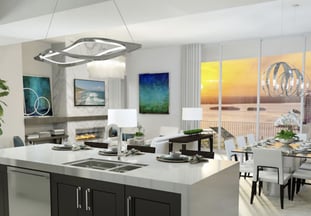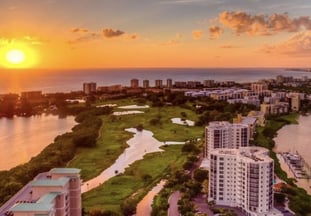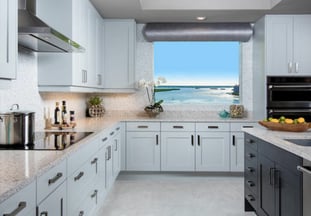 Stunning views of the Estero Bay and Gulf of Mexico
Easy beach access
Open-concept floor plans
High-end amenities
Luxury finishes
Pet friendly
Gated community provides security
Available guest suites
On-site fitness center with yoga studio
Swimming pool and spa
Private open spaces on 55-acre preserve
Competitive HOA Fees
Last Opportunity to buy new in Waterside
Take advantage of your opportunity to tour Grandview by calling us at 239-356-8268 or filling out our online form to schedule a time for your visit. If you're still in the information gathering process, we invite you to read more about Grandview and download our brochure.